THE HINGED WAGGLER

This float was developed and invented by an old and respected angler, the late Albert Friswell of Newport, Gwent. He was a true gentleman of angling, he loved this sport of ours so much that he was actively fishing and participating in events long after his 92nd birthday. I remembered his tales of  how, when a young man, he would cycle from Newport,
South Wales to the Gloucester Canal for a fishing competition, the distance he covered with all his tackle on his back was over ninety miles return.
As the years passed him by, his vision became poorly and so as a thinking angler he developed this float.

This float has is dual purpose;

(1) Can be set, so that the angler with  poor vision can see a bite clearly

(2) When set normally it can have a positive connection to the fish when striking

The hinged waggler is constructed by means of a hinged joint in the middle of the float, this can be done by use of a swivel. Cut a 10″ peacock waggler in half, glue the two halves to-gether with the swivel and there you have it.

Setting up this waggler, so that it can be seen by people with poor vision, is to set and shot one half of the float so that it is submersed and the other half laying flat on the water (see diagram) When a fish takes the bait the half laying on the water will stand up.

The other setting of this float is to shot up the float as normal, use it just like any other waggler, and the advantage's are that when striking you contact the fish instantly.
When striking the float collapses at the joint giving a direct connection to the fish, this is ideal when fish are biting sharply.

I used this float with great affect, when I fished the river Usk, in an open competition, the dace were ragging the maggot as it was falling through me swim, I tried various ways to combat this, striking early, threading the maggot on the hook, counting the bait down etc,
I over came this problem by changing to a hinged waggler, I was soon hooking those big cock dace, that averaged ten to twelve ounces a piece. Winning the match with 20lb 8oz.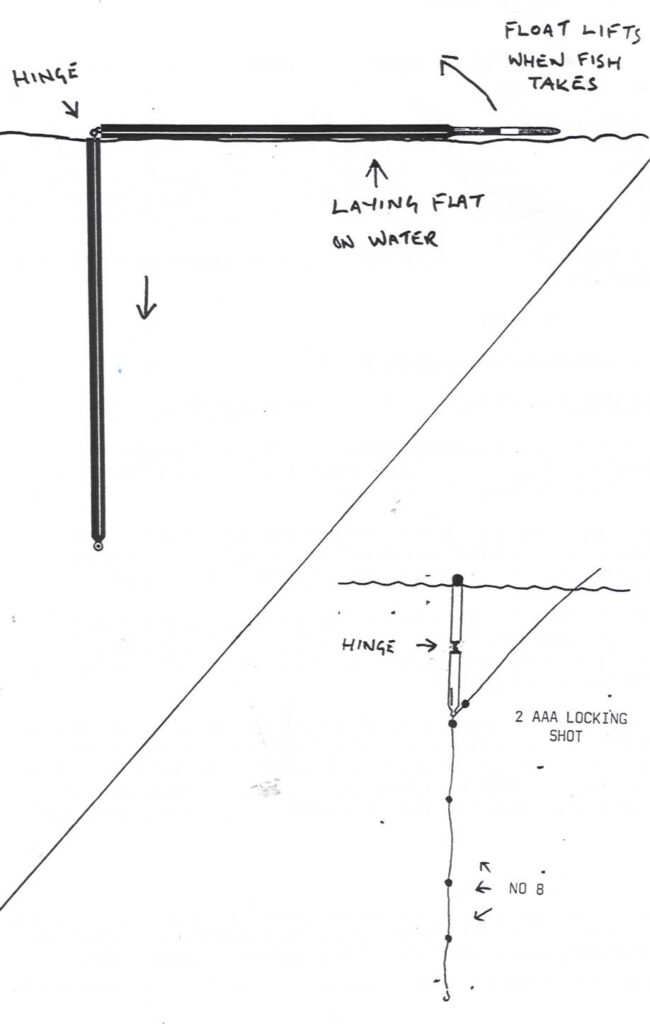 Now Available The Fish Manual with 167 of page contents