THE TROTTER

The trotter if you haven't seen or heard of this float before. It is an old float design. A small dumpy body with a very short antenna. (See diagram) First used on the Trent in the 50s for very shallow swims depths of 2-3ft called the Trent trotter.
I first used this float way back as a young budding match angler, in those days; waggler's were still new to this venue that I fished regularly, the river Taff in Cardiff. A tremendous little river, a spate shallow river with loads of roach around 4-6oz I was seventeen years of age and fishing against the older men in an open competition. I drew a peg, which was only 2ft deep, I tackled up this trotter of which I have used many times on this river, I catching an all roach bag and ended up with 20lb 8oz too win the match.
I have some affection for this float and have caught and won matches using this on many occasions, we nick named this float an uskette, because this float was ideal for another river I fished the river Usk in the Wye valley, another shallow river full of dace. It is a float that I would recommend for any shallow and fast moving river, in fad I don't know of any other float that would do the same job as efficient One swim I fished on the river Usk was only 6" deep yet I could see dace clearly darting around, using the trotter I managed to catch over 401b of dace. lt can be shotted in such a way that it holds still in a fast current as if laying on.
The trotter float is very easy to make if one can't be purchased, I use an old body waggler and chop off the antenna, leaving a small half-inch tip. Shotting the float by locking it with sufficient shots to cock, and using a small number four shot down, to be able to drag bottom.
Casting this float is easy and tangle free except if back shotted, another words a shot above the float to hold bottom which allows the float to lay on, care must be taken when casting, a side cast is better.These days this float may be a bit limited in its applications but it is still worth carrying in case you ever draw a very shallow swim.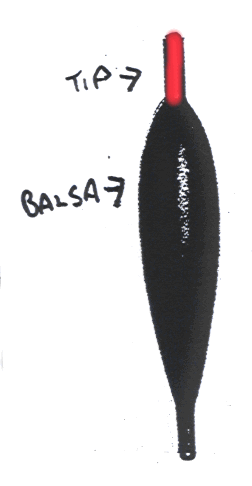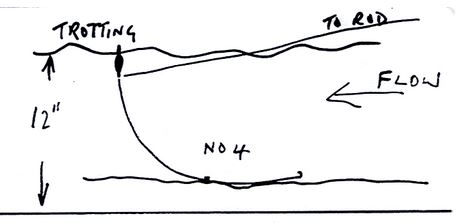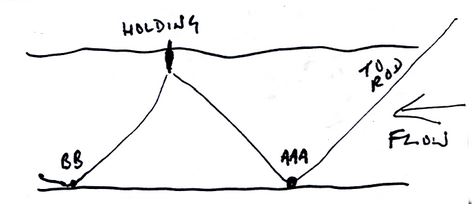 Back shot to hold float against flow
Now Available The Float Manual over 167 of page content